Professional Accreditation:
BSc Exercise & Health Science – University Of Western Australia
Certified ACSM (American College of Sports Medicine) Exercise Physiologist
Certified Hardstyle Kettlebell Instructor since 2010 (Former HKC, Former RKC II & now current StrongFirst Level 2)
Certified Original Strength (OS) Level 2 Coach
Certified Precision Nutrition Level 1 Coach
Certified Functional Movement Screen (FMS) 1
Attended Superior Strength Seminar (Boston) 2014 – Andy Bolton & Pavel Tsatsouline
Attended Plan Strong Seminar (Portland) 2015 –  Pavel Tsatsouline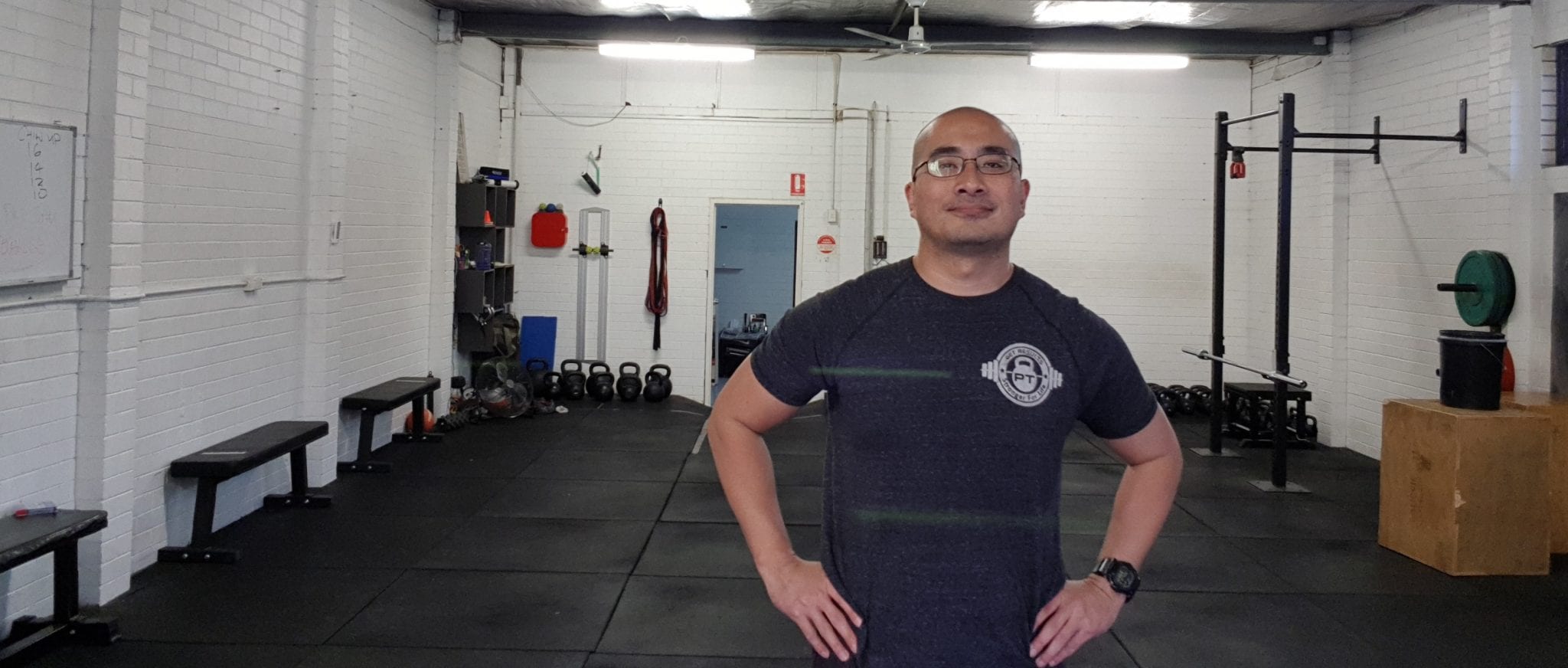 Hey there!!!
I guess I got LUCKY! Of all the webpages you had browsed, you are ACTUALLY on here READING THIS!
It really tells me how serious you're about finding yourself a personal trainer or strength coach if you like to call it.
Okay! Who am I? What can I do for you?
I am a strength coach that trains people to be DURABLE for LIFE and have a HAPPY BODY so they can ENJOY LIFE
I run Get Results PT gym and a busy dad of 2 young boys who loves hanging out with them, changed their nappies (of course I am being sarcastic here!), shower them and get down on the floor and crawl with them. And love eating Singapore chilli crab and watch Z Nation or any Zombie show. And my favourite movie is Saving Private Ryan which I can watch another 100 times according to my wife.
I also love strength training (not limited to lifting kettlebells & barbells) and grip strength related training such as squeezing grippers, tearing both phone books and playing cards.
I am not gonna tell ya how macho I am or how tough a personal trainer I am. Because I don't run boot camp style training as I don't believe in one-size-fits-all approach. Everyone is different and have different goals, different fitness level, different level of movement skills, needs, etc. So how can the same training work for everyone?
One of the things I hate besides people getting locked into long-term personal training contract is short-change my students in training. Doing the minimal as a personal trainer does not help a client the best. This is why I refused to settle and do my best (financially & without affecting my family life) to educate myself as best as I can by travelling to seminars and workshops in the states even after I had completed an Exercise Science degree at UWA. And that's me below with 2 very well-known names in strength training in Boston.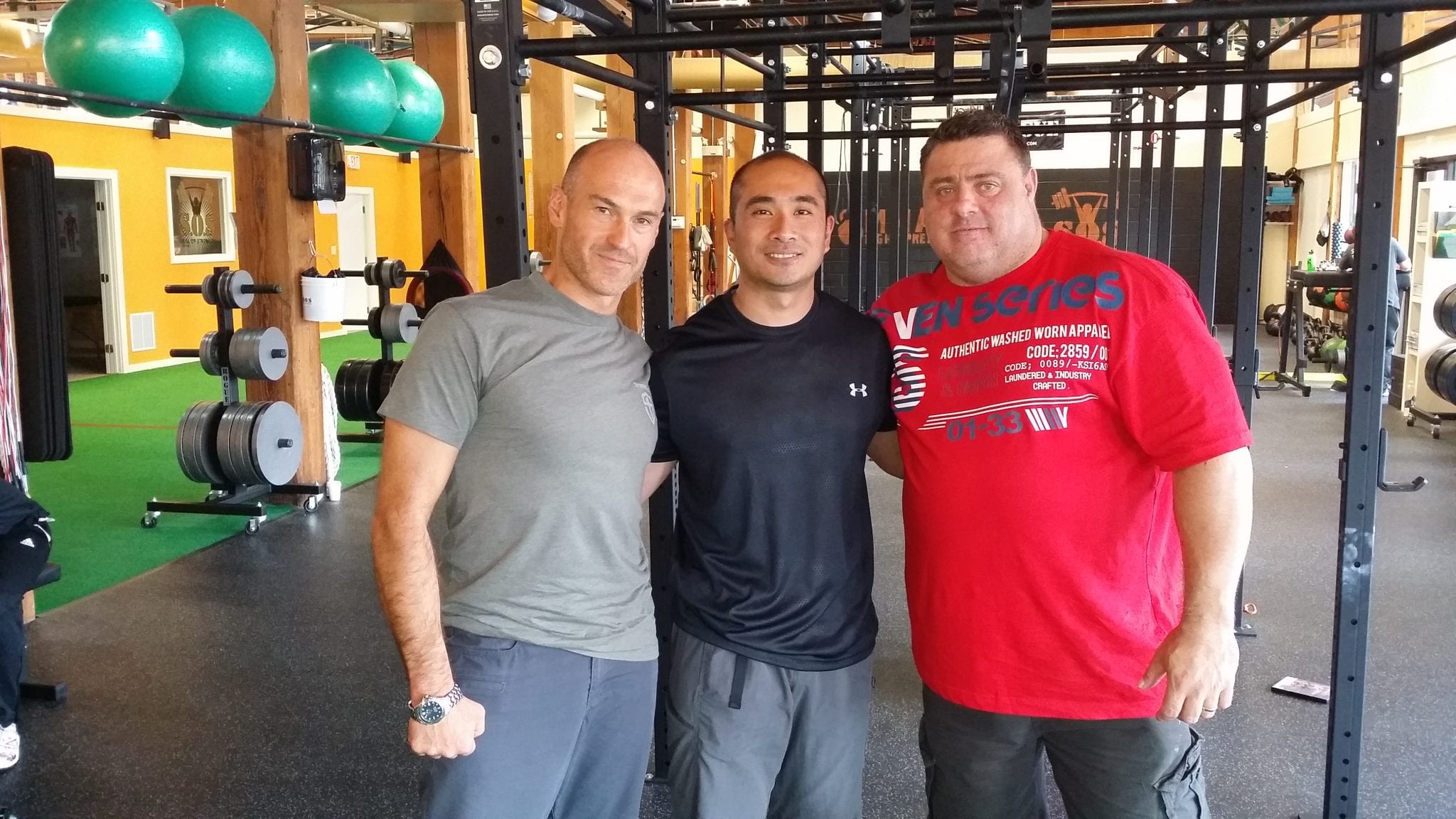 And the continuing education has certainly pay off and made a difference to my clients without a doubt.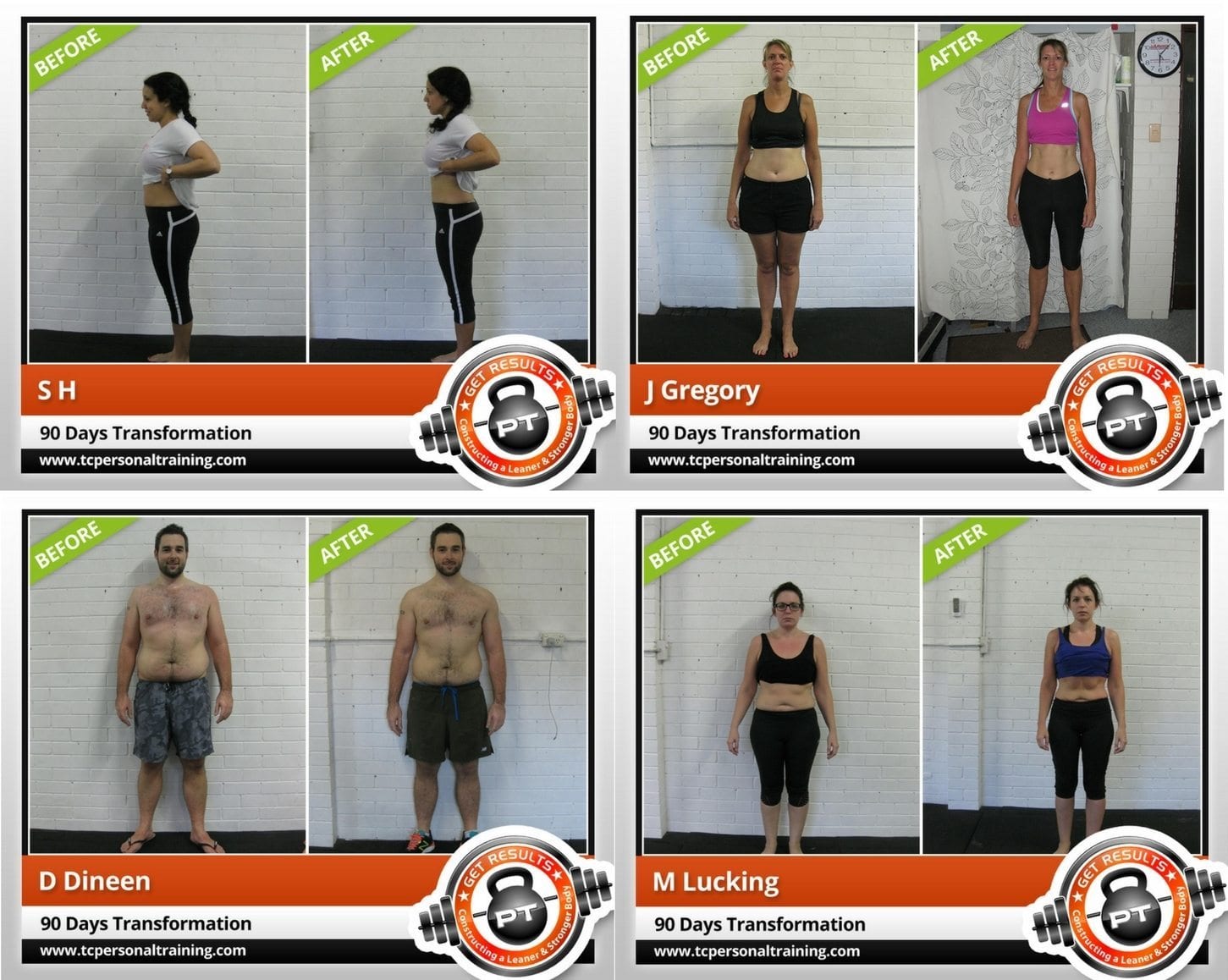 How Do I Train My Clients?
Not only will my training approach be methodical, evidence-based and based on my last 15 years of experience actually training real people, anyone who comes into my gym office will be sat down and asked about what their training goals are, training experience, previous & current health status and lifestyle and current challenges. You see… everyone is different (as mentioned above) and the training mindset and expectation can be different. I believe personal training is personal and training should start at where the client is in terms of mindset and fitness level and not start beyond that. From here, the mind and fitness can progress without risk of burnt out and injury and progress can be sustainable.
Who Are My Personal Training Clients?
I will be honest I don't train everyone. But if I am committed to training someone who is serious about his or her health and fitness and looking at personalised training and not one-size-fits-all, I will make sure he or she gets my best care. I mean what's the point of not committing to training if you are gonna muck around and lose a bunch of money?
The people I trained comes from all walks of life ranging from busy parents (both mums & dads) such as me to medical professionals who puts their trust in us to train them well. And I also have helped quite a few people prepared for their highly vigorous 3-days RKC and StrongFirst Kettlebell Instructor Certification.

Although, I must say I do trained quite a few time-poor individuals. As a time-poor individual myself, I totally understand how hard it is to fit in training but your health should be the utmost priority. Because of being time-poor, it is even more important to look after yourself (instead of let your health slip and risk medical issue later) and training for time-poor people has to be razor sharp, fluff-free and straight to the point. And that is exactly my approach and it is still methodical and progressive with huge amount of individualisation.
How Can You Start Training With Me?
It is very simple. You need to be committed. You can start training with me via the following options:
One-on-One Personal Training
Small Group Personal Training
Online Coaching
LIVE Workshops
To apply, CLICK HERE.
Where Can You Find Me?
Besides meeting me at my gym at Get Results PT on 28 Townshend Rd in the City of Subiaco, the best way is connect with me on my Facebook page here or Follow Me on Instagram. Or subscribe to my newsletter below. Speak to you soon.
BE STRONGER FOR LIFE! JOIN THE MOVEMENT! Receive special offers, coaching and training tips to help you get in shape! 
Enter your first name & best email address. We will send it right into your email inbox NOW.