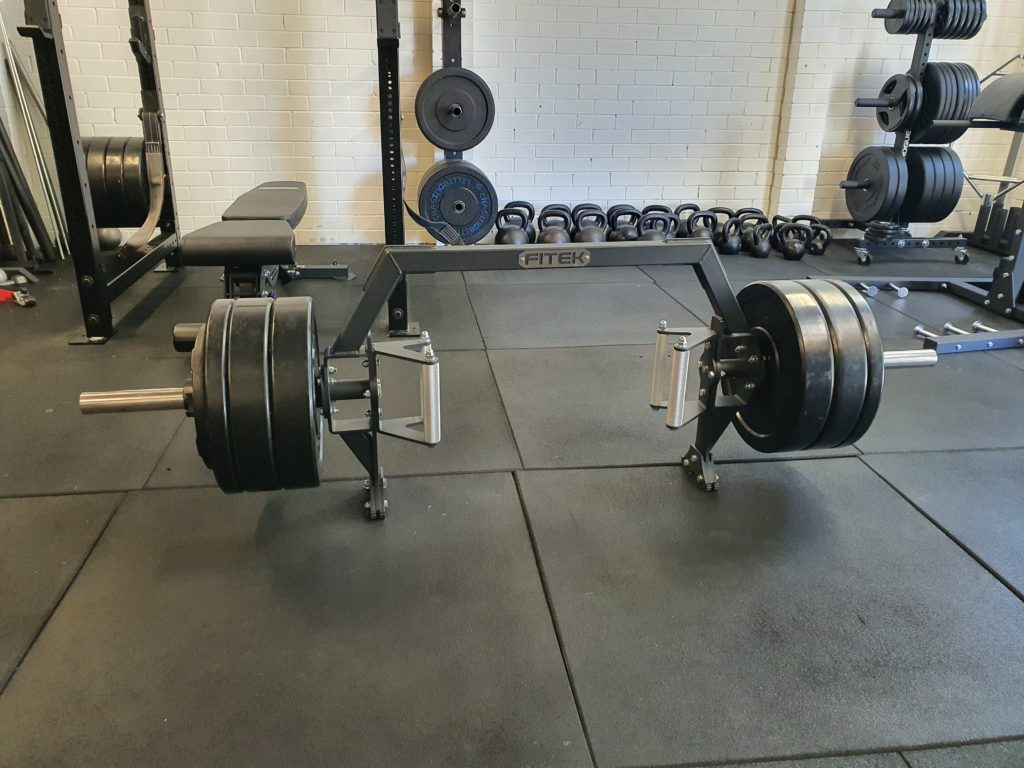 Fitek Open Trap Bar is possibly the best trap bar in Australia you can buy for less than $430. As you may know (if you used one before), the trap bar is also known as hex barbell, a specialty barbell commonly used in the deadlift to reduce the strain on the low back. It can be used for farmer's walk, presses and shrug.
But an open trap bar expands even more exercise options and having used the traditional trap bars in my personal training gym in Perth for some years to help clients who have low back troubles eased into the Olympic barbell deadlift and build stronger legs, I can certainly see the tremendous value in having a trap bar or hex barbell. So I decided that an upgrade is needed as I have always been intrigued by the open trap bar also known as walkthrough barbell or rickshaw barbell.
When you look for an open trap bar to buy online, you will easily find the Kabuki Strength Trap Bar HD as the most positive reviewed trap bar. Unfortunately, it's near impossible to get this hex barbell if you live in Australia plus the hefty cost may put you off. Naturally, you will look for a barbell close to that design. And I found the Open Trap Bar from Fitek.
The Fitek Premium Open Trap Bar Review & The Features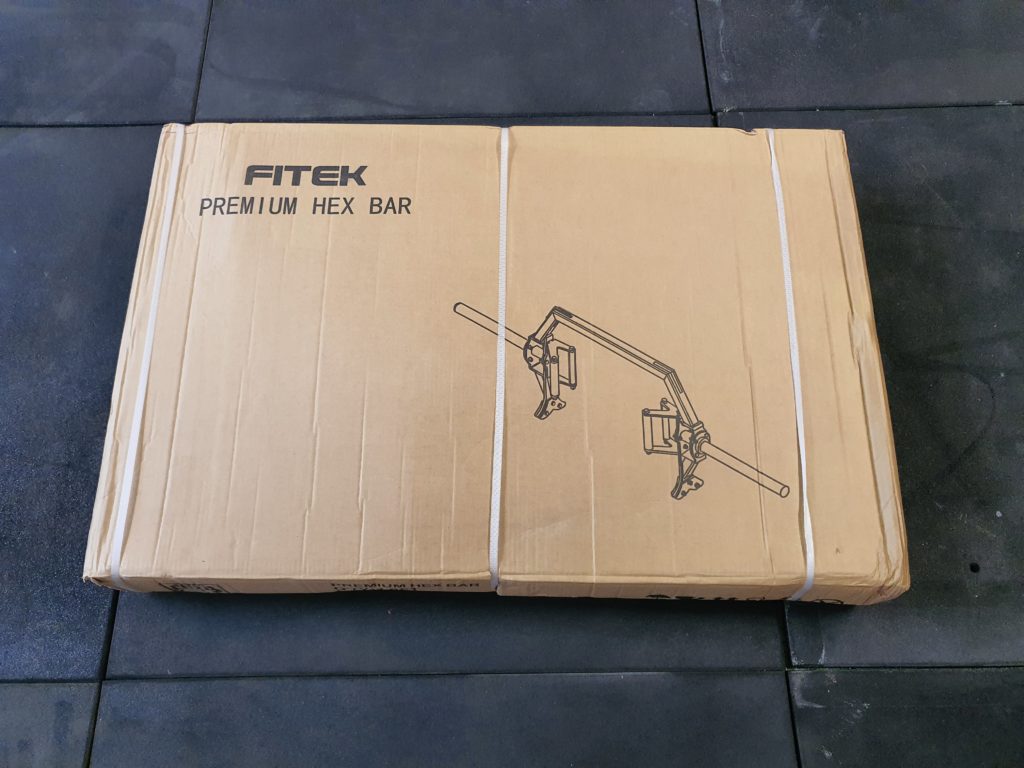 Built Like Tank
When I received the Walk-through Trap Bar from Fitek, it came in a nicely and securely packed box with all the parts ready to be put together. Just from looking and holding the parts, you can tell this is going to be a solid unit when put together. The mainframe certainly got some thick steel.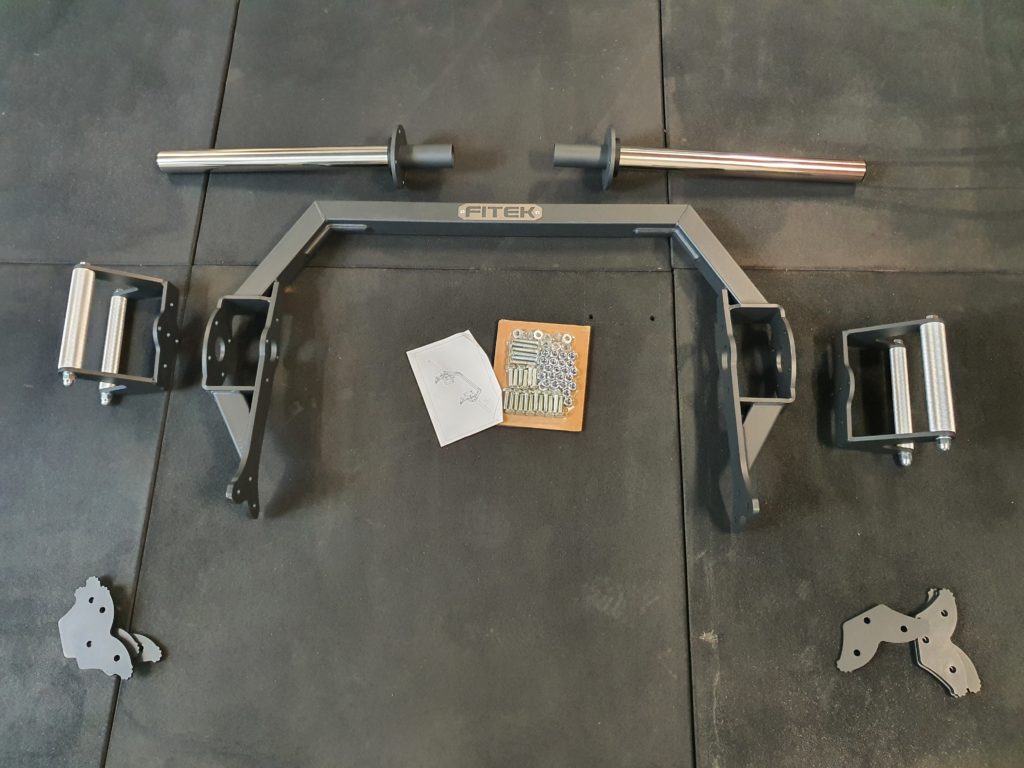 Putting this Open Trap bar together is pretty easy. Weighs in at 32kg and 2157mm in length. It's no doubt bigger than the average trap barbells and built like a tank. You certainly don't have to worry about it falling apart. According to the Fitek website, this trap bar can hold up to a whopping 650kg load.
Walk-Through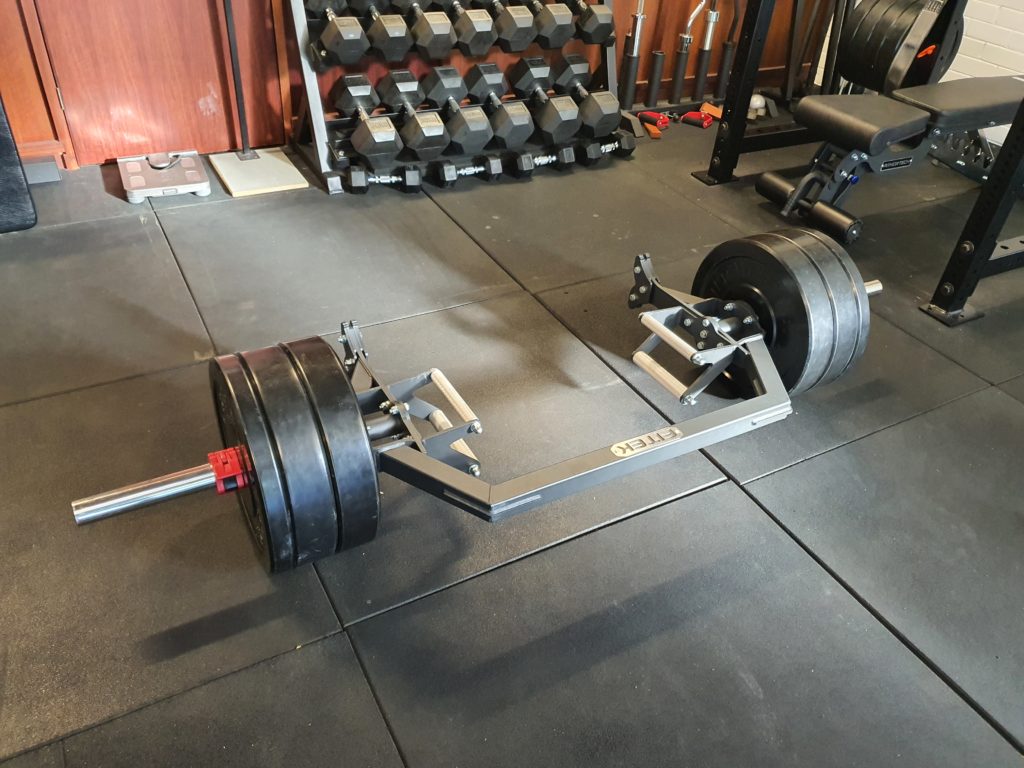 Unlike the average trap bar, this open trap bar has a walkthrough feature that allows easy access into the unit with less risk of tripping over when you step in. This is obviously a common feature in all open trap bars you can find out there. That's why they are called the walkthrough or open trap bar.
Built-In Jack
The built-in deadlift jacks is a strong feature you won't find in most average open trap bars. It allows easy change of weights as you can flip the bar up to stand on its jacks and to load and unload your weights. Flip it down when you got the load you want to lift. It's very stable and did not look like it will topple when standing up on its jacks.
Knurling And Aluminium Handles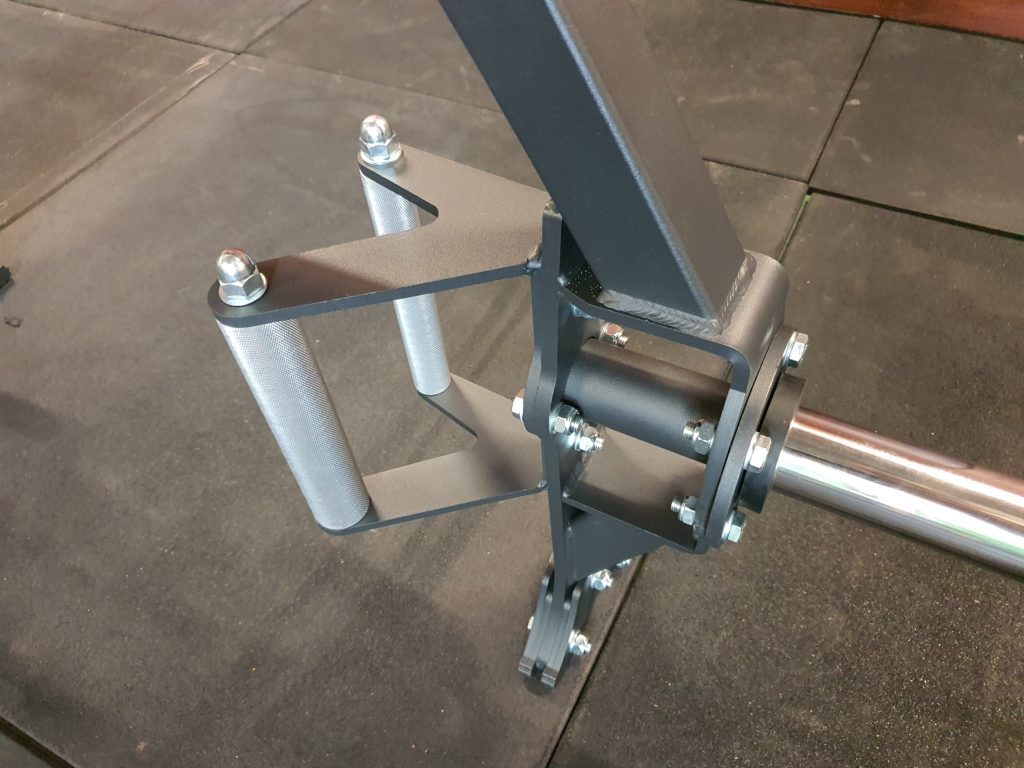 This open trap bar has 2 aluminium handles with one at 29mm diameters and the other one at 39mm diameters. The knurlings are definitely way sharper than all the average trap bars I have used. In fact, the knurling is sharper than most of the average Olympic barbells. Personally, I do like the sharp knurling as it "bites" into the skin of my hands and that allows better gripping when I deadlift.
Super Long Stainless Steel Sleeves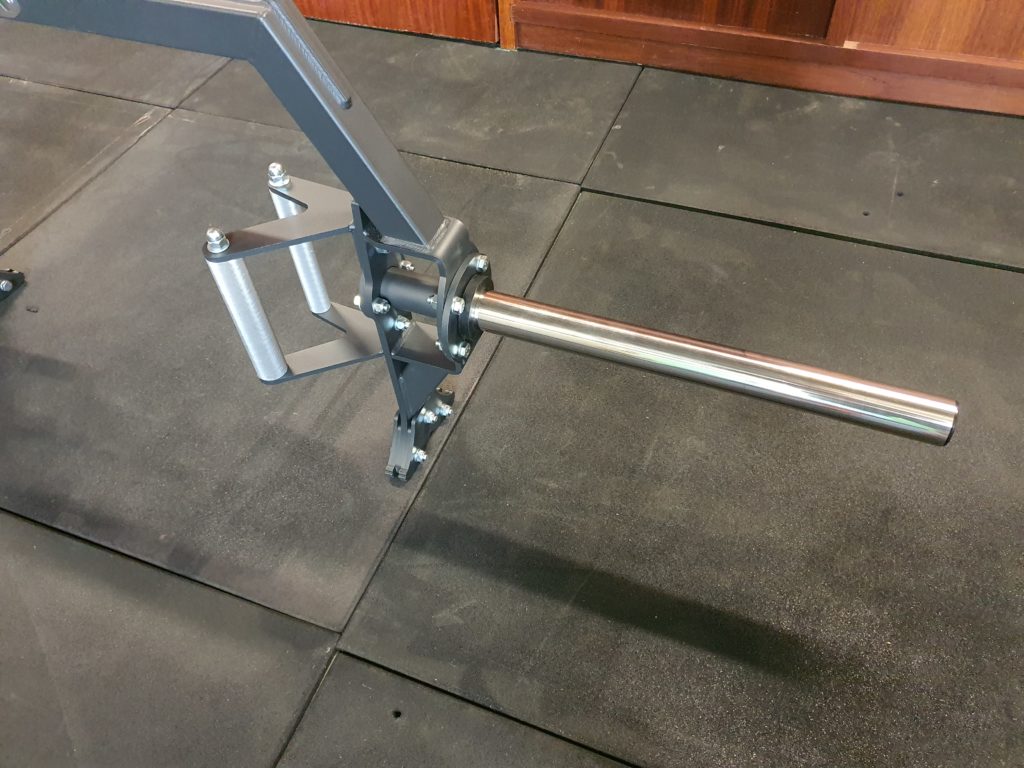 Fitek Premium Hex Barbell possibly has the longest sleeves you can find in a trap bar measuring at 513mm. With its ridiculously long sleeves that allow you to fit in 50mm Olympic plates, you can load it up with your thickest bumper plates without having to worry about running out of space in the sleeve that can happen with some of the smaller trap bars. If you used thinner steel or cast iron Olympic plates, it is quite unlikely you will use up the entire length of the sleeves. The sleeves are also stainless steel they will be more rust-proof which is obviously a plus for people who likes their things looking nice and shiny.
What Can You Do With the Fitek Open Trap Bar than the Normal Trap Bar Can't
Not only is the Fitek Open Trap Bar great for deadlifts, but it does more than a normal trap bar. If you're looking to expand exercise options, this could be the gym equipment you need in your garage gym or personal training studio. The following are the possible exercises you can do with Fitek Premium Open Trap Bar.
Seal Row
Bend Over Row
Zercher Squats
Lunges
Bulgarian Squats
Do I Recommend This Open Trap Bar From Fitek?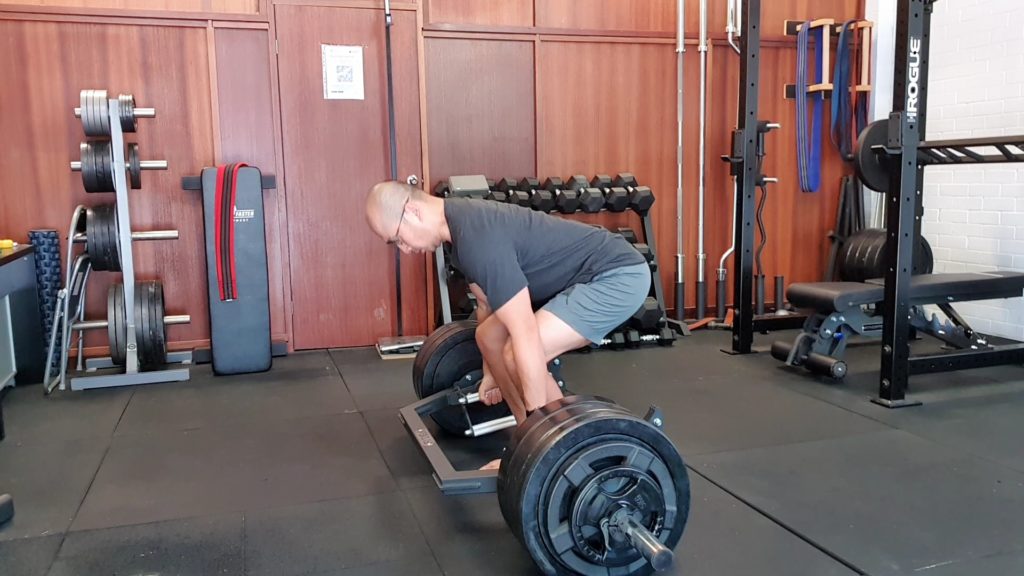 I do highly recommend this open trap bar because of all the combined features mentioned above. It's hard to find a trap bar that comes with so many great features although it's priced probably twice more than the average trap bar. But you'll be buying a quality trap bar that does more than an average bar and seems to built to last.
However, it may be more suitable for individual who want a nice trap bar in his/her garage gyms that does more than just deadlift. And also great for personal trainers to kit out their gyms with better trap bars to offer more options to their clients in terms of training.