Traditional Gada/Mace Workshop Taught by Paul Wolkowinski Review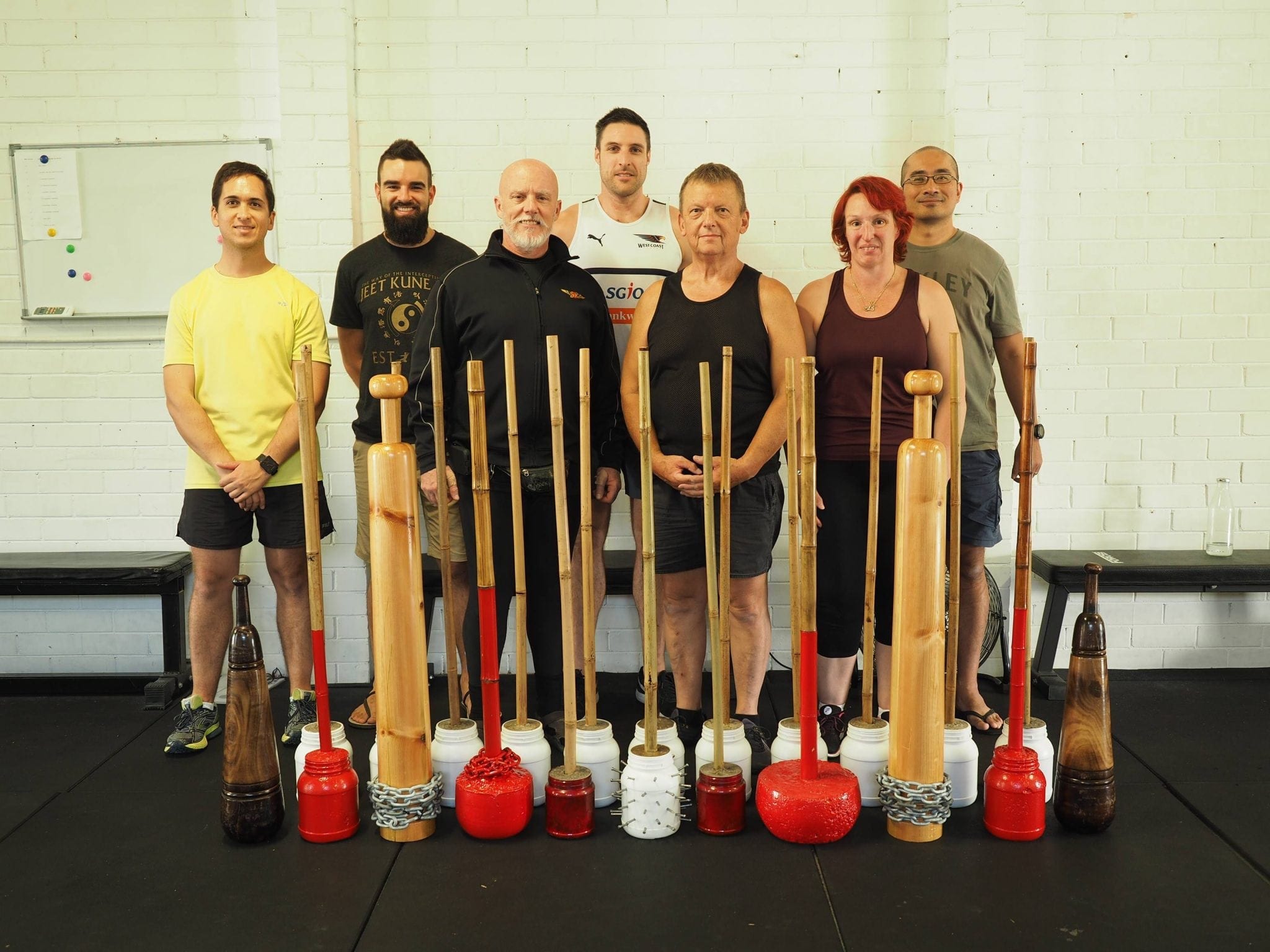 What is this Perth Mace Swinging Workshop About?
It is a full-day fundamental and in-depth traditional Gada/Mace workshop in Perth taught by Paul Wolkowinski on 5th May 2018. Gada which is an ancient or traditional mace was the preferred tool used in this workshop due to the particular gripping techniques taught at the workshop. This event was catered to complete newbies and anyone who has some experience of swinging the mace but want to get more in-depth on the techniques of swinging the mace. Although it is a fundamental workshop, it is highly detailed in teaching from the basics of how you actually grip the mace to full mace swinging that includes traditional 360 degrees and traditional 10 to 2's. And the devil is in the detail and that is where most people missed and have no idea how it can improve their mace swinging skills dramatically.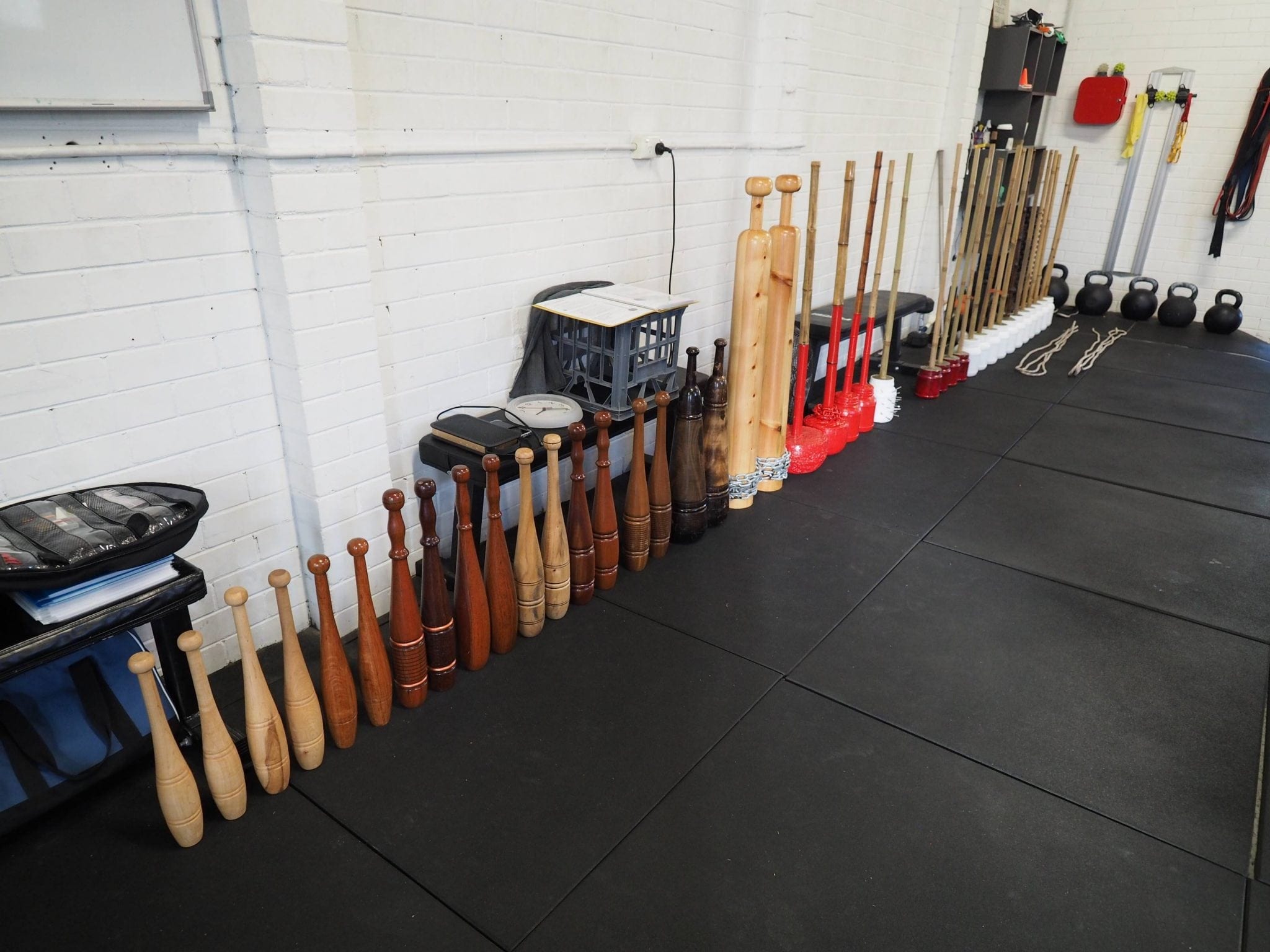 Why Would Anyone Want to Swing a Mace?
Besides it seems cool, feels warrior-like to swing the mace and traditionally seen as a symbol of strength and worldly power, the proper use of this ancient strength and health-building tool (or weapon) offers the following benefits (not limited to them):
Improve Thoracic Spine Mobility (This is good if you have stubbornly tight shoulders and need to loosen them up.)
Build functional core & rotational strength (Highly useful for athletes)
Combat poor posture (Excellent for desk bound people developing poor posture from prolonged sitting)
Offer total body training that develops full body strength that includes the grip (That's how the body moves! It moves as a synchronized unit not by parts. )
About the Teacher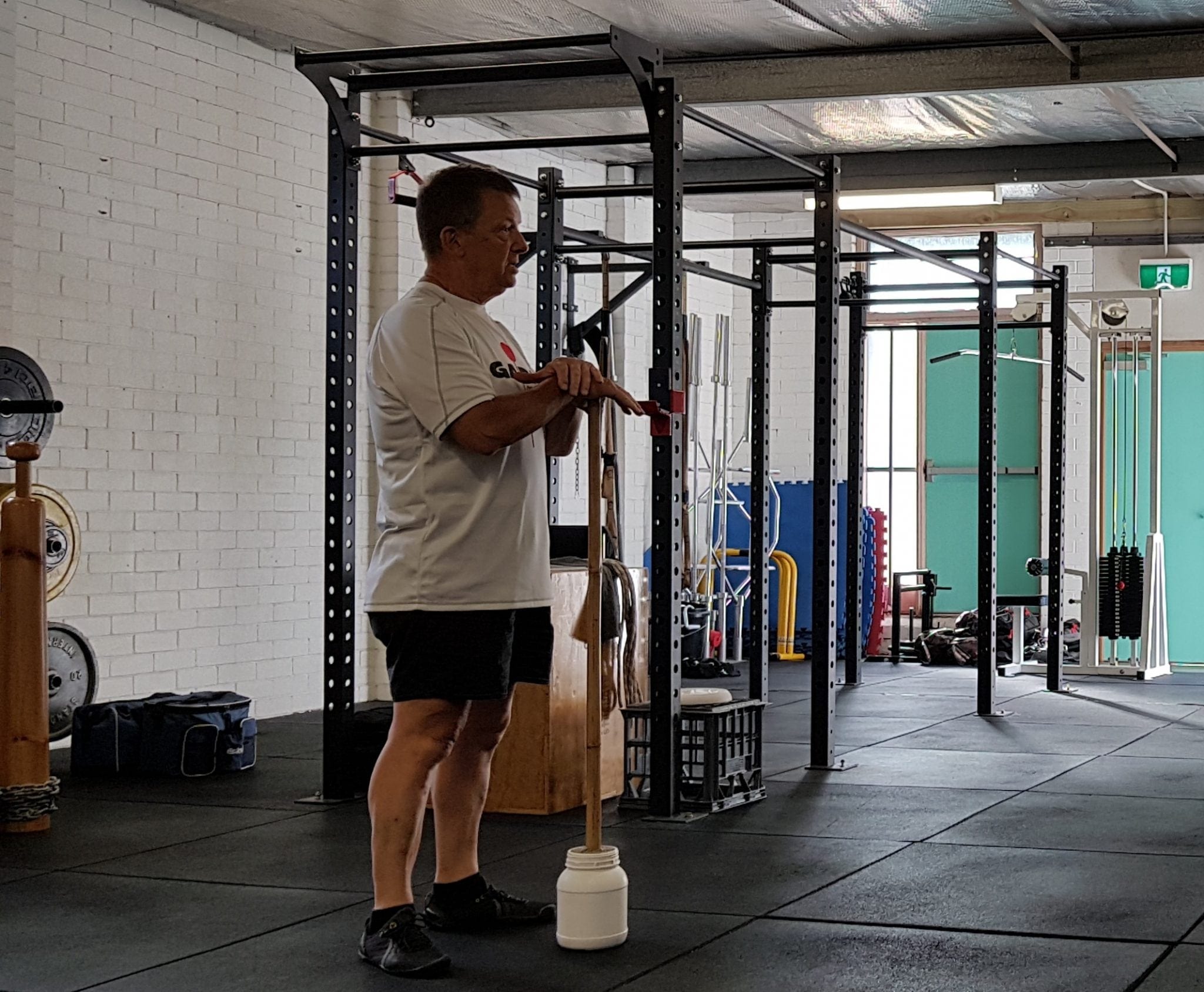 Paul Wolkowinski who resides in Perth is an experienced international workshop presenter and is highly regarded as an expert in swinging ancient health and strength-building tools such as the Gadas, Jori, Meels and Indian clubs. He is incredibly knowledgeable in swinging these ancient tools due to his extensive research and travels  to Indian and Iran. He is passionate about spreading the words and teaching this ancient, yet effective and nearly lost form of physical culture.
Who is this workshop for?
This is definitely for anyone who wants expert hands-on instructions on how best to swing the mace so as to not get hurt, avoid developing poor swinging techniques and learn the subtleties that can make a world of difference to his or her mace swinging techniques that quickly improve the benefits of using the mace. The people who showed up at the workshop were very keen students who want to learn the best techniques from the best so they can further improve their swinging skills on their own.
How Did the Mace Workshop Go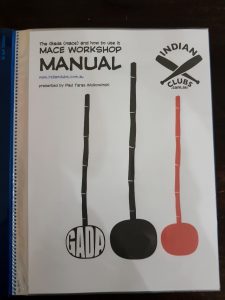 The Gada or Mace Swinging workshop started off with a brief introduction how this mace came about in terms of its origin and its application. And how it is still used by wrestler these days as a form of exercise to help keep the body supple and agile. After the brief introduction, it was pretty much very hands-on. BTW, this workshop comes with a detailed mace workshop manual so that attendees can focus on the teaching rather getting distracted from scribbling down notes.
Participants were taken through specific prep/warm up before Paul introduced everyone the use of the Indian clubs. The purpose of the Indian Clubs was to ease the participants into the mace swinging as there are transferable skills to the mace that seems easier to learn on the Indian club. That Indian club swinging section alone was not only a real eye-opener of Paul's deep knowledge in club swinging it is worthy of being a basic Indian Club swinging workshop on its own.
In this Perth Mace Swinging Workshop, Paul shared 2 hugely overlooked Mace Swinging techniques which I feel is not only very fundamental and also important that they will help you progress further. And the 2 fundamental techniques are as followed:
1. How to Grip The Gada
He explains the difference between the death grip and the skin grip and why skin grip can help you swing better with less tension on the shoulders and avoid wrist injuries. Watch video below for further explanation.
2. How to Set the Gada For Swings
The 2nd techniques is about how you hold the Gada in the set position before you start swinging it. And it is kind of opposite of what you see people are doing on most instagram and facebook video. Watch video below for Paul's explanation.
And after working through all the mace swinging progression, Paul explains the mace swinging is basically a lift (then the mace head does the pendulum behind the torso) and pull action. It's a LIFT & PULL techniques. The overall picture of what happen when you swing the mace is you lift the mace head over to one side of the shoulder and let it swing behind your back from one side to the other (pendulum happens) and pull it over from the other side of the shoulder. And that made total sense!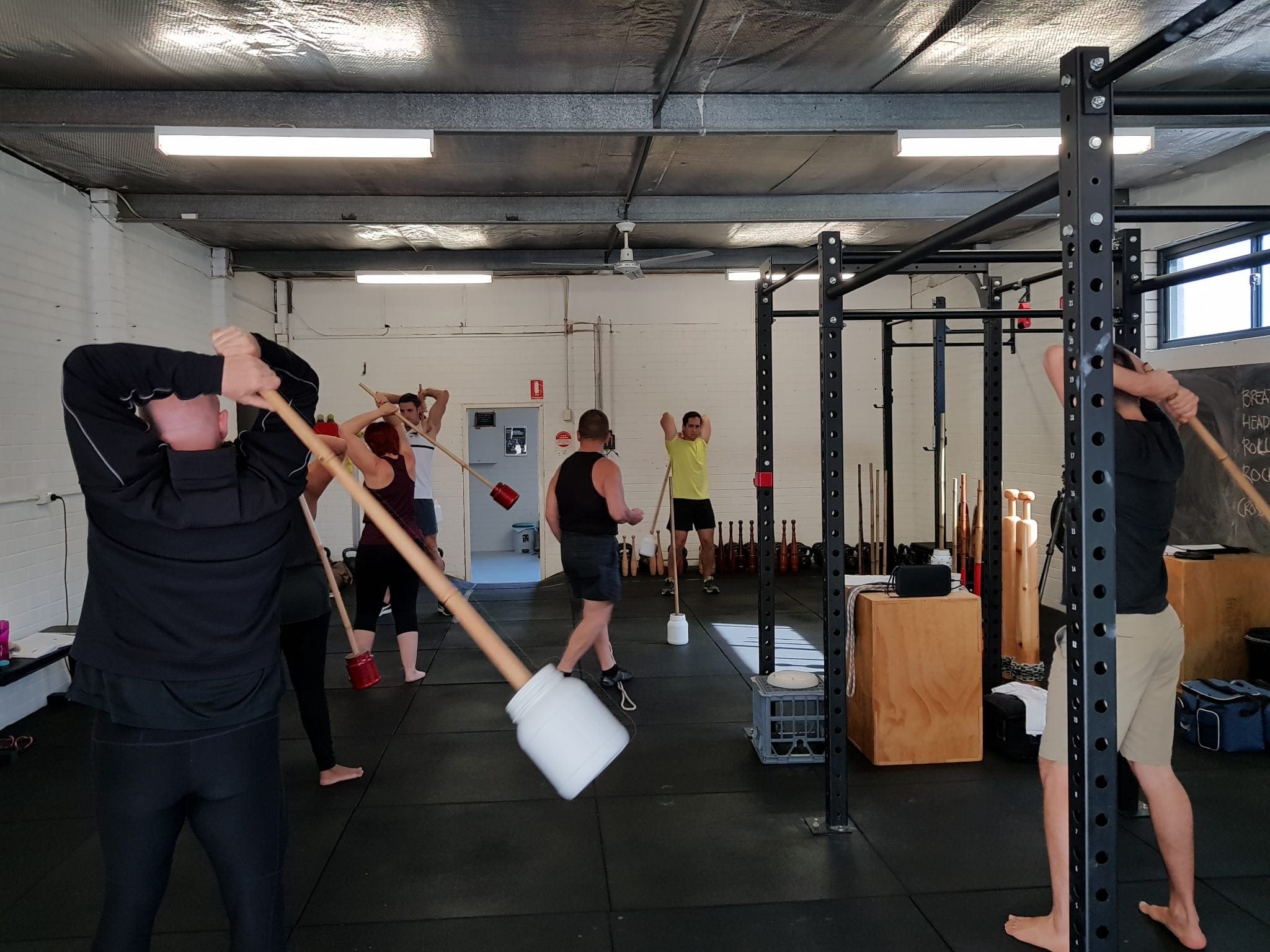 There was plenty of mace swinging practice. As the times passed, I noticed shoulders were more mobile in the people who started out struggling to move their hands behind the head in the mace swinging. Mace swinging techniques were greatly improved.
How Has it Helped Me?
Having learnt (not the best way) via youtube videos and then later on picking up some private mace swinging lesson from Paul had greatly improved my mace swinging techniques without feeling the strain on my elbows and wrist. To attend this workshop had further broaden my knowledge on the subtle and yet important techniques that made a huge difference to my swinging mechanics on the Gada. Coming off a post 6-weeks shoulder surgery back then (at the workshop) and learning the nuances of Indian Club swinging techniques seems to help my shoulder rehab tremendously. My shoulder surgeon said my recovery has been well ahead of the curve.
To me, it is obvious I would not have attained a much better swinging proficiency than before and better understanding of swinging the mace without having attended this workshop and learn from Paul first hand. Those experiences had definitely short-cut my learning curves. The instructions are world-class. I definitely whole-heartedly recommend this workshop taught by Paul to anyone who wants to learn how to swing the mace in the best way without risking injuries and quickly enjoy all the health and strength-building benefits of mace swinging.
To learn more about Paul Wolkowinski or contact him for private training or hosting his workshop, go to IndianClub.com.au. On his website, he generously share his club swinging tips and promote the use of Gadas, Jori, Meels and Indian clubs to help keeping the body healthy, fit and strong.